At Deliverect, we are very passionate about our team, our culture and our values. We believe that with a company culture as strong as ours, you need fewer corporate procedures. You can trust everyone to do the right thing, to work independently and with an entrepreneurial spirit.
So how did we decide what our core values should be?
To answer that question, I'm taking you back to 2010, when Jan and I created Posios, one of the first cloud-based POS systems for the hospitality industry. In the early days of Posios, our start-up culture focused on values like working autonomously, ownership and responsibility. But over the years we noticed how difficult it was to maintain this culture.
Because the company was growing so incredibly fast, we were slowly shifting back to a more classical organizational structure - and with it came a silo mentality. While working in silos helped us scale fast, it didn't do us any favors in terms of communication and sharing information between all the different departments.
We had to resort to more meetings than we could bear and found that problem escalation became a lot harder. Ultimately, the hierarchical structure slowed down our decision-making process a great deal, preventing us from staying agile and our people from taking ownership.

At Deliverect, we want to use this experience to overcome this. By choosing strong values that reflect our DNA and culture as a startup, we want to keep our culture strong - because it is so crucial to our success.
Building the culture
It all began when Jan, Jelte, Jerome and I sat down with Ingrid, our company coach, to determine which values were important to each of us. As Deliverect's founding team, together we came up with a list of values that we wanted to be very much alive in the company: openness, respect, integrity, ambition, purpose, focus and many more.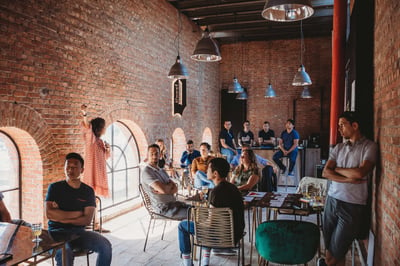 Just before the summer of 2019, the then newly-founded Deliverect had around 15 employees. The whole team joined forces in a workshop, brainstorming about our values and building on them. It was very important that each of them got on board with our company values - and that each of them truly understood what they meant and how they should play a part in everyone's day to day.
To that end we sat down as one team, but we also split up in smaller groups to discuss which of the values were the most important, and what we could do to bring them alive. We ended up with six core value categories with a description, but it all still needed some fine-tuning.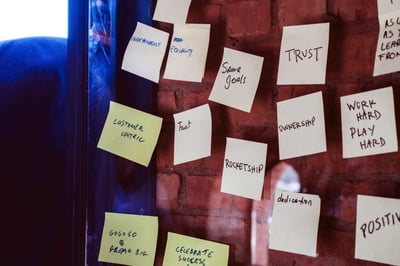 In the meantime, the team kept on growing like a weed! Before we knew it, there were around 50 of us, all eager to co-create our culture. More brainstorming and workshops led us to 6 catchphrases that truly represent our company values, our culture and life at Deliverect.
All catchphrases are galaxy themed, because we've always imagined Deliverect as a rocket ship that is on its way to enable food delivery throughout the galaxy. The rocket ship has big and bold ambitions: one day, we want to deliver a burger to the moon!
With that in mind, without further ado, here are our six company values in all their glory!

To infinity and beyond
Our purpose is to be the backbone of global online food ordering and delivery. We want to help businesses of all sizes with their online channels by automating their operation, solving their biggest operational pain points. Our ambitions, too, are big and bold: we want to empower restaurants around the world to set up online food ordering, connecting them to their customers. On top of that we want to build a happy and loyal customer base as we go. To remain focused, we try to keep a healthy balance between speed and quality.
Be captain of your own rocket ship
We want you to be happy and proud to work here, and to take ownership of your job. You are given a lot of freedom to decide how to get the work done - without constant supervision. This doesn't mean a free ride - we are big on results and focus on numbers. We take pride in this approach, trusting each team member to do their part and ask for help or guidance when needed.
Individually, we are one star. Together, we are a galaxy
Helping each other when someone reaches out and collaborating to solve problems comes naturally in our company. We are a team because we respect, trust and care for each other. Our workplace is a safe haven, where we have honest, open communication, and everyone feels comfortable sharing both positive and constructive feedback.
Stars are made to sparkle
In our company, we combine work and pleasure. Therefore, celebrating success is a Deliverect cornerstone. Additionally, we believe fun is also about getting acknowledged for good work, giving each other compliments and showing appreciation. We magnify each other's strengths, not weaknesses.
An astronaut on the ground is safe, but that's not what they are meant for
At Deliverect, there's always room for creative ideas and suggestions, no matter the subject. If you're onto a new innovative concept, there's no one stopping you to take the initiative. Don't think outside the box, simply think like there is no box: your only limit is your imagination!
Shoot for the moon, even if you miss you'll land among the stars
We don't expect everyone to know everything, but we do appreciate those willing to learn and to try and dare new things, even if you make mistakes. Here, there's always room to fuck up: as long as your learn from your experience and you keep communicating openly with the customer and the team, we'll always have your back.
Bringing the culture alive
Of course these values mean nothing if we don't validate them in everything we do: when writing an email, in communication with customers, partners and coworkers, when giving feedback to each other, in our hiring process, etc.
After all the workshops and brainstorm sessions, we shared the values the team had worked on during our quarterly all-hands meeting. We were so proud to see the results of our hard work and determined to turn them into action!
Combining all our creativity, we set out to illustrate each value with mood boards, adding inspirational quotes and specific actions and challenges around every one of them. Below we share a few of the gems that were created in this very productive afternoon.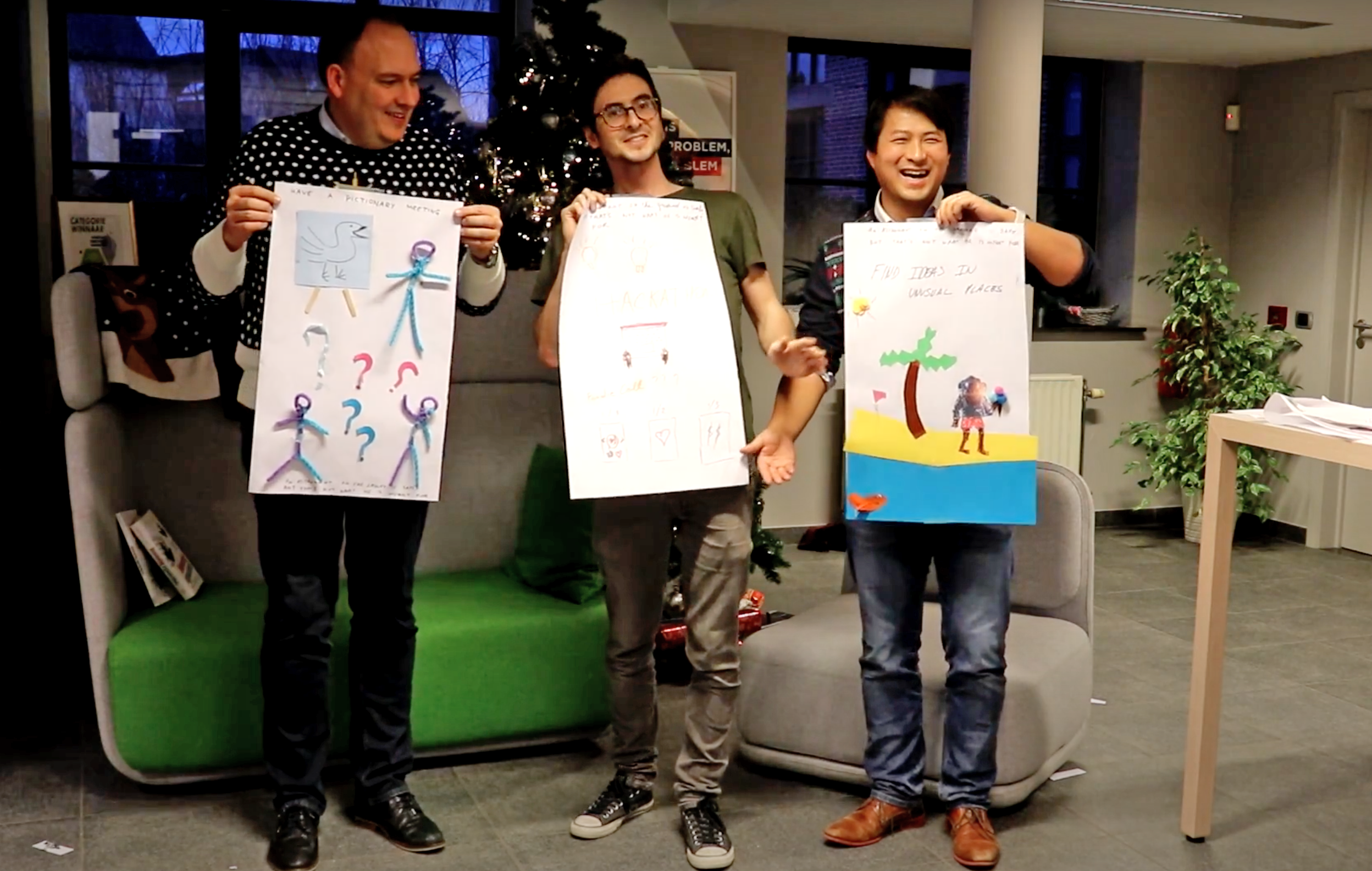 We are so happy to have built our company values together with the entire team. They truly represent us as a company and they play a huge role in our day-to-day operations, as well as in our hiring process. We're excited to continue to implement them, and to get new team members on board that will fit our culture to a T!